Your Small Business Cybersecurity OS: Our New Product Launch and Big Upcoming Enhancements
October 01, 2020
News
Cybersecurity OS
Foundations
We're so excited to announce our team has been busy improving your cybersecurity program with Havoc Shield. In the first quarter of the year, we checked in with many of our customers and gathered feedback around what's working well, and what you need from us.
‍
We've turned that into quite the set of improvements and have you to thank for that! Please take a moment to read through some changes below. Our goal with these and future improvements is to keep you better protected as the online world becomes increasingly treacherous for small companies, and to help your team win many more deals with new customers through the use of security as a competitive differentiator.
‍
First, we wanted to highlight the following set of improvements so you're aware of how your platform is changing.
We've improved the product experience by becoming the Small Company Cybersecurity Operating System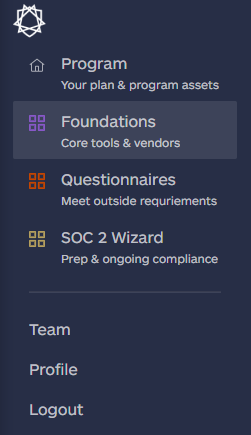 We listened to your feedback around the numerous jobs you have to do within your program, and developed projects to help you fill those needs.
We're promoting a number of those projects into "applications" similar to how you install an app on your operating system, and they're getting first class treatment with new features in the coming months. Today, You'll see the navigation has changed to highlight these different applications. Rest assured that your full program and its modules are still here and act very much the same way today in the "Program" application.
By moving to this system of organization, we'll be able to better guide you through the multiple jobs as your needs mature. Doing things like rolling out the integrated tools and vendors included in your plan through our new "Foundations" application, meeting customer or partner security requirements through our "Questionnaires" application, and getting prepared for a SOC 2 audit are available today. We'll continue to improve these and launch additional applications in the future, all while sharing our underlying catalog of modules anyone can execute without security experience.
Foundations - A new and improved set of cybersecurity tools and vendors

Your program includes the tools, guidance, policies, and processes necessary for small companies competing in today's world. The Havoc Shield tools and integrated vendors included in your program are getting a promotion! We've separated these native tools and integrated vendor solutions into its own product named "Foundations".
Keeping this impressive collection of tools in one dedicated place will allow your administrators an easier time in choosing which ones to activate and check in on their usage and output.
Starting today, if you've not rolled out these tools already, you'll see the same tasks to do so within your program's "Foundational Cybersecurity Program" project, but clicking on them will redirect you to the tool's activation flow within the Foundations product. We've significantly improved the activation flow and added a new status page for each activated tool where you'll be able to view who on your team has made use of which tools and other tool or vendor-specific information.
Dark Mode, New Login & Two-Factor Protection
You'll see we've changed some of our UI to improve your experience and add consistency. While we're still working to fully complete this transition, Foundations and other elements of your Program are now in our new Dark Mode experience. It's not just a cool new background though - we've put forth a lot of effort to improve the way you find and do things within the Platform. Let us know what you think!
Additionally, you'll notice your login page has changed to follow this new theme. You and all your team members' same login still works and you'll be signed on into any of the applications you navigate to automatically. We've also added improved two-factor authentication to your profile. Check it out and make sure to enable it if you haven't already.
Subuser Experience
Your non-administrator users will also login through the new page but will continue to be redirected to a lightweight portal where they can manage the resources provided through your program and complete any tasks assigned to them. We'll be improving their experience soon as well!
Threat Watch & Usage Emails
We're proud to know that you depend on us to keep you in front of new and accelerating threats. Last Wednesday, we sent our first refreshed Threat Watch email to program administrators. These communications are the product of internal threat monitoring we perform on your behalf, and when appropriate, we'll let you know about cybersecurity threats your company should watch out and prepare for. We do this by mapping these threats to your unique profile and removing confusing noise.
These Threat Watch communications will not only alert your administrators to new threats but we'll also include recommendations of which tools to activate or tasks to complete within your Havoc Shield program to mitigate those threats. We'll send them as often as threats occur that could reasonably present a risk to your business, but no more than once weekly unless the threat is incredibly critical.
We believe it's our duty to help your company respond to new threats before attackers use them against you, so we're investing significantly in services like this one. You'll see in-product experiences develop for Threat Watch soon. Please give us your feedback by replying to those email communications!
We also heard from customers that you'd like us to let you know how things have gone in terms of protections activated, resources used, and program readiness. You'll see new communications around specific program asset usage as well as a regular quarterly digest on your program starting in July.
Vendor Security Questionnaires
Also called "enterprise security questionnaires" or "ESQs", getting hit with one of these can slow a big deal to a halt. If you aren't already using our Questionnaire service to save time on those confusing, long sets of requirements in the way of winning a deal, we'd like to help!
We can parse the requirements of these questionnaires in whatever format they arrive in, map them to your Havoc Shield Program and provision a custom project including any tasks necessary to fill requirement gaps, and then leave you with a professionally-written set of responses and evidence to deliver to your customer. The Questionnaire application stores your past responses and evidence, accelerating every subsequent set of requirements.
Check out our ESQ plans, and contact us today if you'd like us to take these off your plate.
Upcoming Improvements
There's a lot here, but we're certainly not done! In the coming months, we'll launch new tools and vendors inside the Foundations application. We'll provide new guidance tasks to securely configure the software and systems you already use. We'll improve our Platform's features and experience further to keep our promise to you in being the best way to create, manage, and improve your cybersecurity program.
Whew! Thanks for reading! If you have any questions or feedback, we'd love to hear from you. You can reply to this email or call us at (888) HAVOCSHIELD. Yep, that's a real number!
Congrats on being amazing and proactive when it comes to your company's cyber risk, and thank you for your support.
Sincerely,

‍
‍
‍
Brian Fritton
CEO & Founder